Life at Villa Del Sole
We are resident-centred and family-orientated and value our residents contribution to improving our services at all times.
Lifestyle
Lifestyle Programs are displayed on noticeboards to encourage residents to participate in activities within the facility. There are special celebrations organised within the facility throughout the year, friends and family are welcomed to attend.
Our residents are encouraged to initiate activities they enjoy. Special outings are organised at a reasonable cost.
Lifestyle Activites - Personal Services Offered
Aromatherapy
Bingo
Cards
Craft Activities
Interaction
Mobile Clothing Shops
Devotional Services
Musical Entertainment
Movies
Group Outings
Mini Golf
Exercise Classes
Happy Hour
Support to maintain interests in the local community
Other activities / services are available:
Hairdresser
Manicures
Podiatry
Special outings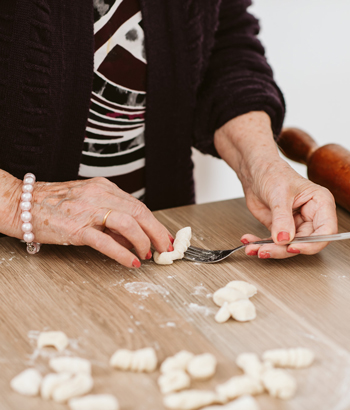 Our Services
Our aged care services have been developed to ensure your safety and that you keep your rights, freedoms, choices and peace of mind.
Food and Dining
Food made with love. Our local chefs create exciting seasonal menus. A weekly menu is displayed on a noticeboard located in the dining room for your convenience.
All meals & snacks are served in the dining room or to private rooms if needed or requested.
Alcohol
Alcohol is permitted and provided as part of our additional services option. Alcohol is provided free to residents for happy hour.
Pharmaceutical Services
Villa del Sole has a consulting pharmacy which provides a daily service. Pharmaceutical requests can be made through the nurse in charge, who will ensure the ordering of items and delivery to you. However, you may obtain your medications or other pharmaceutical needs, from a chemist of your own choice.
Please note, any medication that is brought into the Facility must be ordered by your Doctor, including creams, sprays or natural medications.
Laundry
Your personal laundry is attended to on a daily basis with a 48 hour turnover, or more regularly in accordance with higher care needs. Personal clothing that is not machine washable in hot water or suitable for the clothes dryer will need to be taken care of by yourself or your representative. The facility will provide and maintain all bedding and bathroom linen.
Special Dietary Needs
The provision of special dietary requirements with regard to your medical needs or religious/cultural observance is available. Your dietary requirements will be discussed with Care Staff on your entry to the facility and as required thereafter. Villa del Sole has access to dietician services, to review your dietary needs and ensure an appropriate diet is provided.
Cleaning
Dedicated cleaning staff will attend to the cleaning of your room on a scheduled basis. You are welcome to assist with the keeping of your room and attend to chores if you wish to do so.
Newspaper & Mail Delivery
Daily delivery of newspapers is available for Il Globo and The Herald Sun. These are arranged through the additional services option. Mail is delivered daily .
More Services
Meals and refreshments comprising of three meals per day, plus morning tea, afternoon tea and supper. Snacks and drinks are available as required.
The provision of recreational activities on a regular basis. (Your specific interests will be noted when you move into Villa del Sole and regularly thereafter.)
The provision of emergency assistance over a 24 hour period.
Personal and nursing care services are available as required to assist you in maintaining your lifestyle, for example, assistance and/or support with recreational activities, personal hygiene care, mobility, nutritional requirements, communication and emotional support.
Administration and supervision of medications subject to State regulations. (Specific regulations exist in relation to the administration of medications by facility care staff. We ask for your understanding and compliance with the regulations, where necessary.)
Professional and understanding assistance with continence management.
Treatments or procedures carried out in accordance with instructions of a health professional or a person responsible for assessing a resident's personal health needs.
Services & Lifestyle Gallery
Dance Performance